Prep 10 mins
Cook 30 mins

We love breakfast foods for supper during the winter, so when DH saw this recipe in our local co-op magazine, he was quick to point it out to me. Check it out and see what you think!!!
Directions
Preheat oven to 375 degrees F.
Spray a 9" deep dish pie plate, or a 10" pie plate with non-stick spray.
Pour salsa into the prepared pie plate.
Blend cheeses and layer over the salsa.
Blend the eggs and sour cream until smooth and pour over the cheese.
Bake 20-25 minutes or until a knife inseted in the center comes out clean.
Let stand for 5 minutes before cutting.
Reviews
Most Helpful
What a tasty little dish! I had never heard of this, but I love omelets, salsa and pies so I guessed I would love it! I was right, this is super easy to make and really delicious!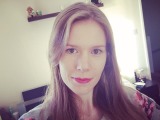 Love it, love it, love it! I had a breakfast for 20 people following my daughters' college graduation and my extended family loves anything salsa so I made two 9x13 pans of it by making 1 and a half times the recipe for each 9x13 pan. I always add a package of cubed ham on top of the salsa before sprinkling the cheese over the top. <br/>For this crowd I made two 9x13 pans of Dutch Babies and one double recipe of the Walker Brothers Apple Pancake #128966 - but with blueberries in one half of the pan and apples in the other. I also had two dozen cinnamon rolls and a huge batch of bacon that we cooked on the grill. The rolls were mostly ignored in favor of the hot egg dishes and the bacon.

This was easy and delicious! I wasn't so sure about it but I ended up really liking it. My guests liked it a lot too. It took about 35 minutes to bake. I used Chi Chi's medium thick and chunky salsa, a bag of shredded mexican cheese, and Breakstone's original sour cream. When it was done I sprinkled it with some garlic powder and pepper. Would definitely make again.