Bergy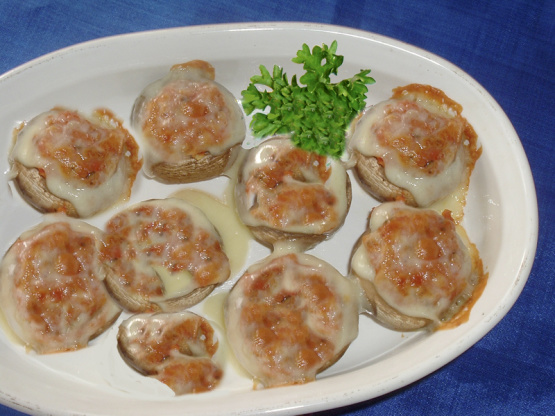 This comes from the book "Pacific Fresh". It is one of my favorite cookbooks. These are a great little appetizer, especially for a mexican meal. Something a little different than chips and salsa. I ate some of the leftovers with a salad for lunch the next day - yummy!

It was easy, cheesy, and we will make it again sometime. That's three people giving it three stars, btw. Thanks!
Preheat oven to 350 degrees.
Lightly oil a 13 x 9 glass baking dish.
Remove stems from mushrooms and clean caps.
Brush a little oil on both sides of mushroom caps and place in baking dish with the hollow side up.
In a small bowl, mix together the crushed tortilla chips and the salsa.
Fill mushrooms with this mixture.
Top each mushroom with some of the grated jack cheese.
Bake for 12-15 minutes until mushrooms are warm and cheese is melted.
Serve.
Note: I had some wonderful fresh goat cheese that was rolled in chipotle powder. I used a few slices of this on some of the mushrooms instead of the jack cheese. It was heavenly!