teresas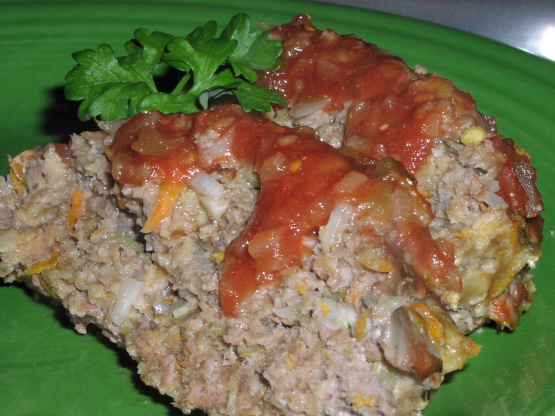 From the issue of March 2005 of Coup de Pouce. This is an healthy recipe.

I cook for elderly parents, and knew this would be a hit for them with all of the wonderful veggies! I did cut the recipe in half, and cut back slightly on the garlic, otherwise made as written. My parents really enjoyed this, and have plent left over to make burritos for lunch tomorrow (Dad's idea!) Thanks Boomette! Made for Potluck Tag
In a bol, whisk lightly egg whites. Add oatmeal, onion, zucchini, carrots, garlic, Worcestershire sauce, salt, thyme and pepper. Stir. Add ground beef and stir.
On a greased baking sheet with sides, shape the beef mixture in a round loaf of 13 inches of lenght and 2 inches height. Cook in a preheated oven of 350 F for about 40 minutes or until meatloaf is golden. With a spoon, spread salsa on the meatloaf. Keep cooking for about 20 minutes or until the internal temperature is 170°F.