teresas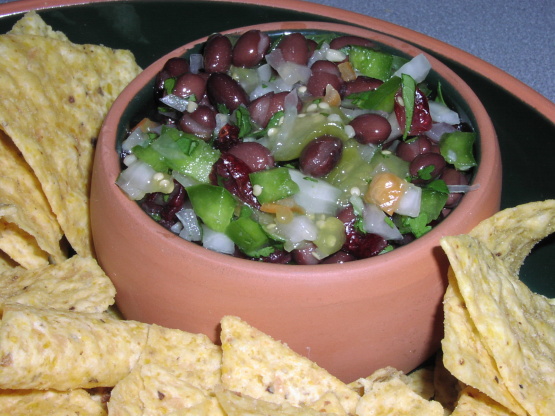 Made this for ZWT5 as a team challenge. Very tasty. Thanks to the Dining Daredevils. Dreamgoddes EmmyDuckie Michelle Bertei tomsawyer Studentchef Mami Janine SueVM HollyGolightly

There was too much liquid in this salsa. I would reduce the amount by at least half. Fresh tomatillos work better (raw, not cooked) and were more colorful. Replaced most of the habanero with serrano which I prefer. Freshly cooked beans and white onion; tart cherries for sweet. Reduce garlic to two cloves. Reviewed for PAC 2010.
Combine the orange jice and cherries. Allow to marinate for at least 20 minutes or longer.
Combine all ingredients in festive bowl. Serve.
Note: The longer this is allowed to sit, the mover flavors blend together.