Salsa De Chiles De Arbol: Red Hot!
DDs Mom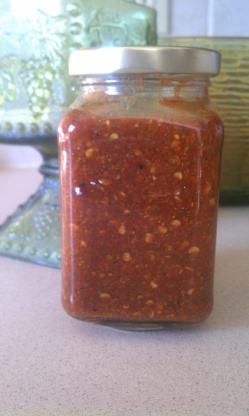 This salsa is definitely not for everyone. This is only for those of you who like things Super Duper Hot!!! It makes just a very small amount because you really only need a few drops to give plenty of heat. I don't recommend this for chips, but it is excellent in seafood soups and on anything fish or shellfish. I always serve this with fish tacos making sure to label the dish HOT! From Baja: Cooking on the Edge. Don't make this is you can't take the heat ;)

Wow this stuff is great!!! This is my first time using using these chiles. I love this sauce! It's quite hot but good. Thanks for sharing the recipe.
Lay a sheet of foil in a heavy cast-iron frying pan or comal. Over medium-high heat in a well-ventilated area, dry-roast the garlic until the skin in blackened in places and the garlic is soft (about 7 minutes). Remove the peel.
Wearing gloves, seed the chiles and place in a blender. Process until well pulverized. Add the garlic, water, and salt and puree until as smooth as possible. Scrape into a bowl and add the vinegar. Let stand 30 minutes. Taste for seasoning. The sauce should be hot and highly seasoned; add more vinegar and salt if necessary. If desired, the salsa may be thinned with a little water.
Note: This sauce may be strained before serving (I never do). I also leave the seeds in the chiles which makes it hotter.