Salsa Cruda / Pico De Gallo
Katzen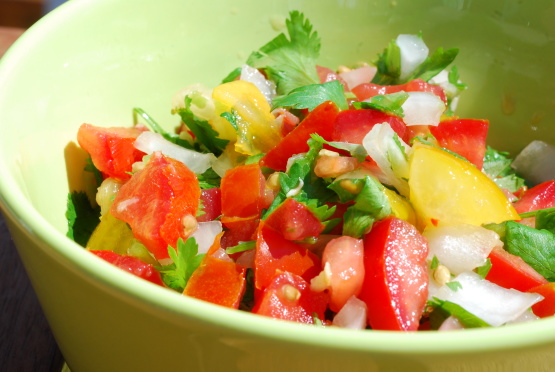 This receipe comes from the cookbook 'Salsa Cooking' which is an amazing cookbook. The salsa is as close to the real thing as I have tried outside of Mexico. This salsa is also the base for the Lime Chicken Tortilla Soup The receipe calls for grilled tomatoes but I prefer fresh, cored tomatoes instead. I agree with Katzen's review about adding oil, if you are using recipe as a regular salsa there is no need to add oil. If using for the soup you do need the oil You can spice up the salsa by leaving some of the jalapeno seeds in

Very tasty and fresh! I will leave more of the seeds from the peppers in next time, since we like it hotter. I also doubled the cilantro. Simple to make.
Core the tomatoes and squeeze the seeds out, chop finely.
Mix all ingredients togethether.
Let sit for 15 min for flavours to mix.
Season with salt.
Enjoy!