Salsa Chicken in the Crock Pot
KateL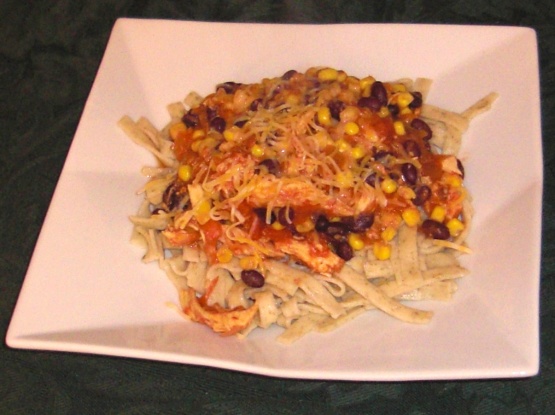 We went on a trip over Labor Day with some friends of ours and they made this for dinner one night. I made it again the next weekend for our big family dinner we have once a month. I received compliments from everyone! Try it, it is so easy. These are the measurements I used. There were 6 adults (we each ate at least 2) and 3 kids (they ate maybe 1 1/2 between them) and we had tons of extras. Next time I will cut it not quite in half for that size of a group. My servings and yields are just estimates because we had so much left over-hard to gauge. I used thawed chicken when I made it.

Simple and wonderful! I used 1 can of black beans and one can of navy beans and omitted the corn. Used about 30 ounces of salsa. Served over brown rice and it was awesome! Will definitely make again! I cooked on low in the crockpot for 4 hours (mine cooks hot) and the chicken was so moist and tender!
In the crock pot, place the chicken breasts and the salsa on top. Heat on high for several hours (mine took about 4 1/2 to 5 hours).
About 15-20 minutes before serving, shred the chicken with a fork and add the beans and corn, mixing to combine. Continue cooking until the beans and corn are warmed through.
Serve on flour tortillas with whatever garnishes you want to add.
Eat like a burrito. Enjoy!