Salsa Chicken Burrito Filling
Torricus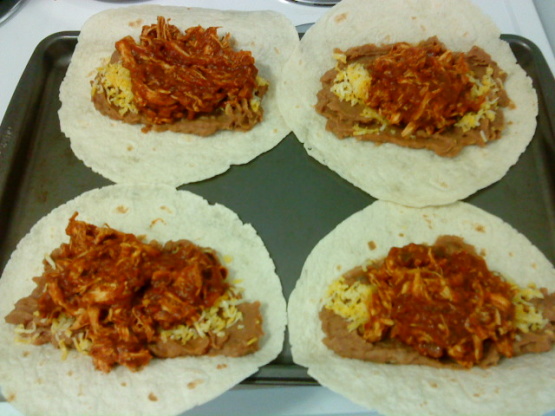 " Quick, easy burrito/taco filling that is delicious and freezes great! I serve this with tortillas, shredded Cheddar cheese and little sour cream. You could fill the tortillas and put them all in a baking dish and then cover with salsa and cheese and bake for about 10 minutes, if you don't want a mess at the table

Turned out great! I don't like chicken as it usually turns out dry, but this was perfect. I left out the hot sauce as my mom doesn't like too spicy and we thought that might give it too much of a kick, but even without the hot sauce this had so much flavor. It's definitely something I'll be making again and again. I also added rice with the mixture (cooked on the side) and it was a nice addition in the burrito. (raw rice, not the minute rice.) Thanks for sharing!
1 Place chicken breasts and tomato sauce in a medium saucepan over medium high heat. Bring to a boil, then add the salsa, seasoning, cumin, garlic and chili powder. Let simmer for 15 minutes.
2 With a fork, start pulling the chicken meat apart into thin strings. Keep cooking pulled chicken meat and sauce, covered, for another 5 to 10 minutes. Add hot sauce to taste and stir together (Note: You may need to add a bit of water if the mixture is cooked too high and gets too thick.).