lazyme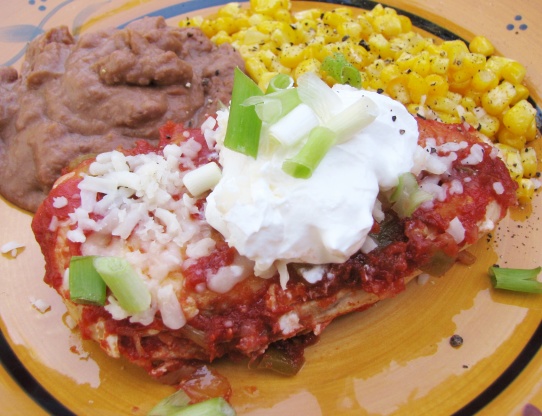 This is such a simple dish to make. No measuring needed. Just add the ingredients to your liking. I have made this with Spanish Rice before and it is great, or just plain rice works too. Refried Beans, complete the menu.
I also make a version of this, using Pace! The only thing I do differently is roast an ear of corn and some zucchini under the broiler, rough chop the zucchini,cut the kernels off and add both near the end of the cooking time. The roasted corn adds a bit of sweetness and color. I serve with white or brown rice and cilantro, and of course grated cheddar! Delish and healthy!
olive oil, enough to brown the chicken in
salsa, I use Pace, but whatever your favorite is will work
shredded cheddar cheese, for topping (Monterey Jack works well too, so would Pepper Jack)
Flatten Chicken Breasts so they are of equal thickness for even cooking.
In stir-fry skillet or any deep frying pan (with lid), heat your Olive Oil.
Add the Chicken Breasts and brown on both sides until no longer pink inside.
Pour over salsa to your liking. I use about a half a 16 oz. jar. I also add a little water to tone down the heat, (hubby can't handle spice).
Cover and simmer chicken in salsa for about half-hour to 45 minutes.
Top with cheese to serve.