Alskann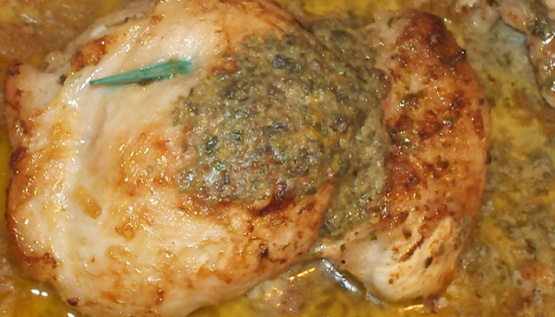 This quick and easy recipe combines chicken breasts with a piquant stuffing and is packed with flavour.

I found this to be very flavorful and easy to make. The only chicken I had on hand was skinless, boneless thighs. So I cut pockets into each thigh and filled it with the salsa butter and secured it with toothpicks. I then followed the rest of the recipe exact. Because of the saltiness of the anchovies I would probably use unsalted butter next time. It was a little salty, but I like salt, some people don't. I will definitely make this one again. The salsa butter would also go good with steak or seafood.
Preheat the oven to 350°F
Mix all the salsa the ingredients together. Season with sea salt and freshly ground black pepper.
Separate the skin of the chicken from the breast - without completely removing it and spread the salsa butter underneath.
Heat an oven-proof frying pan and brown the chicken on both sides.
Place in the oven for 8 - 10 minutes until the chicken is cooked through.
Serve with salad leaves.