Salsa Burgers - Clean Eating
Shuzbud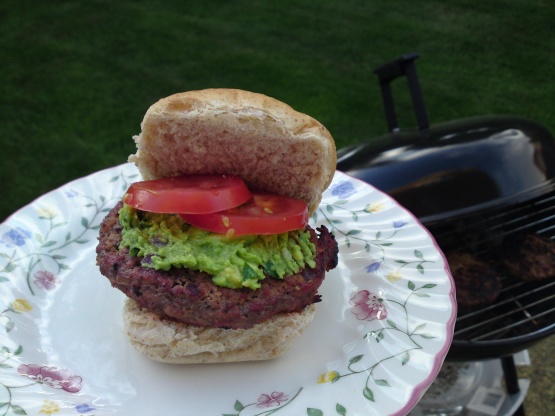 This is out of the July/August 2011 Clean Eating magazine. You can find pico de gallo in the produce aisle or deli section of your supermarket. There are also some goods one posted here.

We LOVED this recipe! I'm on Weight Watchers and this was packed with flavour but it was still healthy! What I loved about this recipe was that the dominant flavour was from the topping, not the burgers themselves. The cilantro and lime juice shone through to make a fresh, summery-tasting burger! I topped mine with tomato slices rather than lettuce and we didn't have a red bell pepper so I used finely diced red onion in with the avocado. I also added a little mayo with some mexican spice mixed in underneath the burgers. DH has insisted on making these again and again!
Place oven rack 6 to 7 inches from broiler and preheat to high. Line a baking sheet or broiler pan with foil. In a large bowl, combine beef, pico de gallo, 1/4 tsp salt and 1/4 tsp pepper. Shape mixture into 4 equal patties, each 1/2-inch thick, and place on prepared baking sheet. Broil for 6 to 7 minutes or until burgers are browned. Flip and repeat on second side until burgers are firm to the touch and no longer pink in the center, 5 to 6 more minutes (internal temperature should read 160°F on a instant-read thermometer).
Place avocado in a small bowl and mash to a chunky consistency with a fork or potato masher. Add red pepper, cilantro, lime juice, garlic powder, pinch of salt and pepper, to taste; stir to combine.
To serve, spread 2 tbs yogurt on bottom half of each bun and top with 1 to 2 lettuce leaves, if desired. Then add patty and 3 tlbs avocado mixture to each before finishing with top halves of buns. Garnish burgers with additional cilantro, if desired.