Salsa Brujas De La Cocina
Rita1652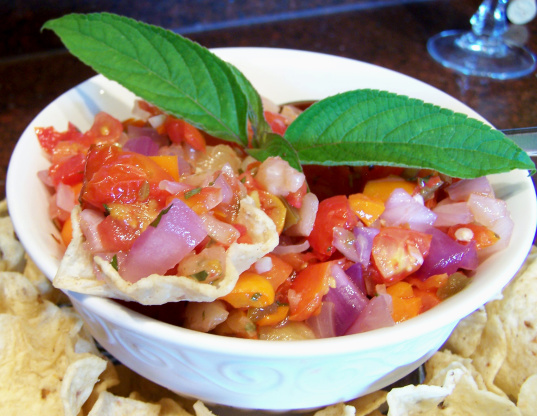 This recipe is a delightful and tasty product of its ZWT5 Kichen Witches' creators: Dolce Lazyme adds the sweetness of bell peppers setting the tone for her teammates' contributions. Chef1MOM brings in white onions because any thought of a Zaar absence incites sharp, bitter tears. Mersaydees brings garlic in to remind us of wonderful fragrant times living near Gilroy, California, where she enjoyed mucho salsa. My3beachbabes suggests jalapeno because it has helped her shake up her sheltered baking life. Mirj adds a good kosher red onion, especially one grown in the sultry Israeli climate, and encourages you to try the bounty of your own region's. Elmotoo passionately suggests parsley in order to get cilantro fans to consider this superior and undervalued herb! Realtor by Day, Chef by Night suggests pineapple in order to share with all of Zaar the secret of her multi-tasking existence: electrolytes! Debbie R., the practical one, insists on red grape tomatoes, the stealth fruit in a vegetable world, ready to add punch! Gailanng, the artist among us, colors this salsa with yellow grape tomatoes, pleasing our palates. Nif, ever one to watch over the team in her kindly and fastidious way, insists on balancing the "party" by inviting apple cider vinegar. Cookgirl, the arduous and ultimate consummate chef, brings in fresh pineapple sage and blossoms from her herb garden in order to really make this special for YOU! We've brought our collective 'Zaar essences together in what we believe is the ultimate salsa. ¡Viva la salsa! (Recipe intro written by Recipezaar member mersaydees.)

This was part of Menu #28779. Interesting. I wish I could have found pineapple sage. I did use pineapple mint which does have hints of pineapple. I used all red grape tomatoes no yellow at the stores. Used all the rest of the ingredients. The tomatoes would have been better if diced. they were a bit large. Citrus like lemon. lime or even orange would bring this together even more. I found the onions slippery to dice so take care in that. With the leftovers I will do a rough chop and serve with chips for a snack. Made for ZWT5. Gracia. ;) UPDATE: Two days of letting it meld in the fridge I rough chopped all the ingredients for a smaller texture. I also found pineapple sage Yeah!!! And I also added a squeeze of fresh lime juice and some red pepper flakes. It is all gone. This kicked it up for us to perfection. Good stuff! Now I can`t wait for blossoms on my sage plant. ;)
1 1⁄2 cups red grape tomatoes
1 1⁄2 cups yellow grape tomatoes

1

large bell pepper, diced (read *Note)

1

medium white onion, unpeeled, cut in half
1⁄2 medium red onion, unpeeled, cut in half

2

garlic cloves, unpeeled

1

whole jalapeno
3⁄4 cup pineapple, cut into small size pieces

2

tablespoons apple cider vinegar

2

tablespoons fresh parsley, minced

1

tablespoon fresh pineapple sage, cut into thin ribbons
1⁄2 teaspoon salt

3

pineapple sage, blossoms
*Note: Use a variety of bell pepper colors for extra splash: red, orange, yellow, purple, variegated, etc.
Preheat oven to 375 degrees.
Place the tomatoes, bell peppers, onions, garlic and the whole jalapeno in a roasting pan. Roast approximately 25 minutes, turning occasionally to roast evenly and vegetables have started to char around the edges.
Set vegetables aside to cool.
Once cool, cut the tomatoes in half lengthwise.
Remove the skin, stem, seeds and membrane from the bell peppers and dice.
Remove skin from the onions and garlic. Dice the onions and mince the garlic.
Remove skin from the jalapeno. Remove stem, seeds and devein. (For a hotter version, do not remove the seeds or membrane.).
Transfer vegetables to a bowl.
Stir in the remaining ingredients except for the pineapple sage blossoms.
Just before serving, garnish salsa with the pineapple sage blossoms.
Serve with chips.
Serve salsa at room temperature.
Yield is estimated.