Salsa and Chiles Green Beans
AmyMCGS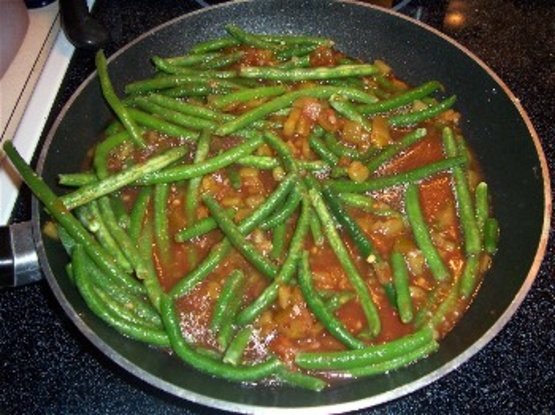 This is a good side dish with Mexican food. The Recipe comes from Ortega.

Well, it says 6 servings...but only two of us were home for lunch and this is all I made...we scarffed down every last bite!!! DD#1 said she was full about 3/4 of the way through hers and was going to give the dogs some, but not wanting to deal with the potentially undesireable 'after-effects', I told her NOT to give the dogs any...then she proceeded to finish eating hers. I said, 'I thought you were full!' She replied, 'I was, but if I can't share with the dogs, I'm sure not going to throw the rest away...now I'm stuffed!' Wow, these seemed somewhat medium hot, but the more we ate, the hotter they got. I didn't have a can of diced green chilis so used 4 medium size frozen green chilis (run through my mini-food processor) instead. I also used a quart of my home processed frozen green beans. Yummy! DD#1 and I will certainly be having these again. I'm positive DD#2 and DD#3 would bother love these as well, 'if' they can get past the 'green beans'...yuck frame of mind. We couldn't even taste that these were green beans! Thanks for sharing another winning recipe Barbara!!!
Heat oil in a large skillet over medium-high heat.
Add onion and garlic; cook, stirring occasionally, 1 to 2 minutes.
Add green beans, salsa, chilies and salt.
Bring to boil.
Reduce heat to low; cover, cook, stirring occasionally, 10 to 12 minutes or until beans are tender.