Bergy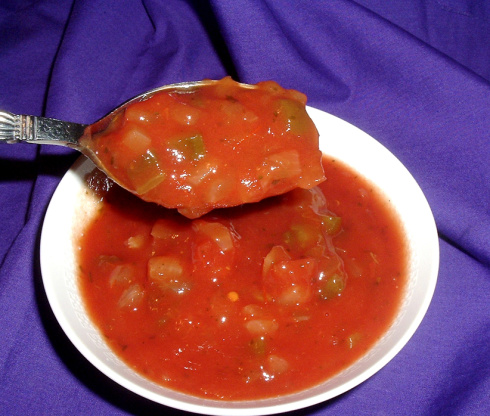 Tomatoes contain lycopene, which is supposed to prevent cancer, especially of the prostate, stomach, and lungs. Add the salsa to avocado and it makes a great guacamole. A friend and I adapted this recipe from recipes #39006, #7947, and #1078.
This is a good way to use up soft tomatoes, but the honey lost it for me. I guess I don't care for sweet salsa. I added corn and black beans to make it more colorful and my husband and our employee ate it up. Next time, I'll skip the honey.
Bring a large pot of water to a rolling boil.
Add tomatoes and scald for 2 minutes.
Drain.
Submerse immediately in a bowl of cold water and ice and let sit for a few minutes.
Remove skins and discard.
Remove stem core and discard.
Cut tomatoes in small chunks and discard seeds and juice.
In a large pot, add all ingredients.
Bring mixture to a boil.
Over medium-high heat, cook for about 5 minutes, stirring frequently.
Strain off any excess liquid.
If desired, puree half the batch to make a smooth salsa.
If desired, add 8 tablespoons of chunky salsa to a ripe avocado to make guacamole.