lets.eat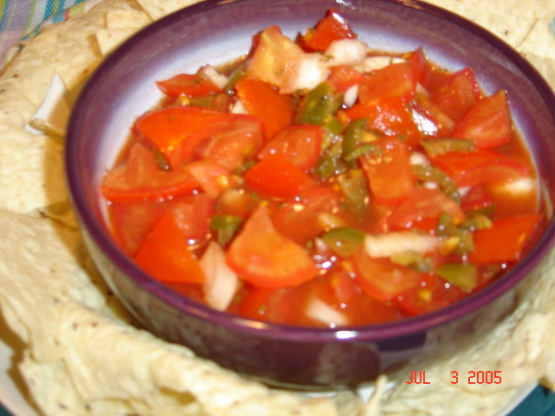 This is the salsa recipe my husband brought back to me from a restaurant in Mexico City. I have tweaked it over the years to perfect the recipe to our our liking. I have discovered that hand-chopping the vegetables finely will produce the best texture and flavor. The flavor of this salsa will intensify over 24 hour period. If you like HOT leave recipe as is. If you enjoy a milder salsa, you might want to reduce the amount jalapeños.

Unquestionably the best salsa I have ever had! The flavor is best when it is allowed to "marinate" in the refridgerator overnight. Also I like it with a few extra jalapenas for spicyiness. This salsa cannot be beaten.
1

tomatoes, diced fine

2 -3

tablespoons jalapeno peppers, diced fine

1

teaspoon cilantro

1

small onion, chopped fine

1

(12 ounce) can tomato juice (I use Campbell's)
1⁄2 teaspoon salt, to taste
Combine all and enjoy!
Tastes better the second day after flavors have a chance to combine.