Salmon With Wine Mustard Sauce
Prep 15 mins
Cook 15 mins

Yet another salmon dish! Sounds yummy!
Directions
Prepare Wine Mustard Sauce by lightly sauteing shallots in butter, add wine and reduce until nearly evaporated, add cream; cook until thickened (about 4 min.); add mustard, green onions and parsley; season with salt to taste.
You can start baking the fish about half way though starting the sauce.
Place salmon fillets in baking pan, brush with butter, oil and lemon juice mixture.
Bake at 400 for 15 minute or until flesh flakes easily and is no longer translucent.
Ladle a serving of sauce on individual serving plates; arrange baked fillets on sauce, garnish with pear tomatoes and parsley sprigs.
Reviews
Most Helpful
This is delicious! I doubled the sauce, and I'm so glad I did. It's wonderful. Thanks for sharing your fabulous recipe!

This was really excellent. I used a 1-1/2 lb. filet, and the sauce was the perfect amount. I did garnish with some lemon, because I do think it enhances the flavor of the salmon. Thanks for sharing this great recipe!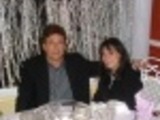 I used a trout fillet and it turned out so moist. The sauce was thick and so tasty. Very good with the trout. I used half and half cream. And dried parsley. Thanks Bakinbaby :) Made for Cookbook tag game