Salmon With Tomatoes and Cucumbers
Nif_H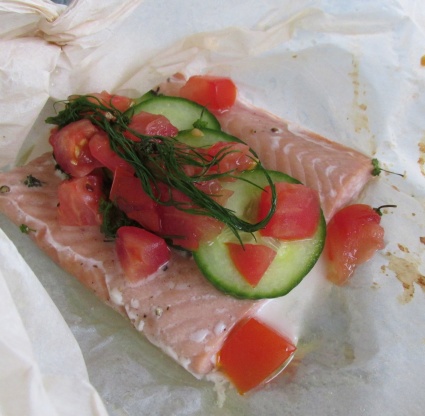 This recipe was demonstrated at a brown bag lunch -- it is so good! This serves 10 but is divided easily to make less or more servings.

Top Review by Nif_H
The fresh flavours of this dish show off the ingredients so make sure that you don't skimp on quality! I like fish cooked this way but it's very boring looking so the colours of the tomato, cucumber and fresh dill added something to the way that I have made it in the past. Made for the Tasty Testers for ZWT9. Thanks ellie_! :)
To make lemon infused olive oil: combine extra virgin olive oil with lemon rind (use a vegetable peeler using the outside of the lemon - no pith) and let sit overnight.
Preheat oven to 425-degrees F.
Season salmon with salt and pepper.
Cut parchment into 8"x11" pieces.
Put salmon with vegetables on center of parchment, add olive oil and wine. Then top with dill, shallot and salt and pepper.
Fold parchment over salmon, making packages (papillotes), securing edges well. Place on cookie sheet.
Bake in preheated oven for 9 - 10 minutes.