Salmon With Spinach and Mustard
Hey Jude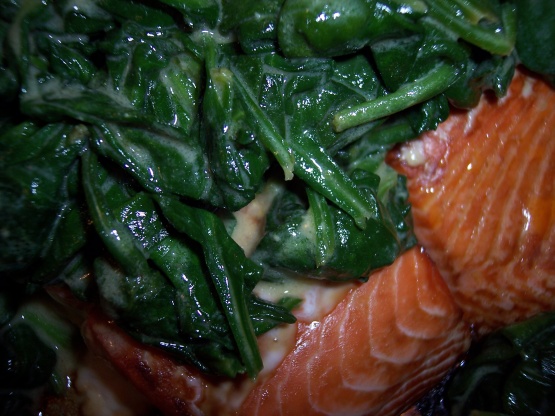 Recipe is from "You: The Owner's Manual". The author says the body benefit of this recipe is good for your bones. The Omega fatty acids lubricate joints & the spinach has bone-boosting calcium.

This recipe goes wonderfully paired with the canellini bean puree from recipe #253940. The dijon mustard packs a punch, but it's delicious.
Rinse salmon in cold water and pat dry with paper towels.
Place salmon in a shallow bowl & top with soy sauce. Let stand 10 minutes.
Combine wine,lemon juice, mustard, and oil; set aside.
Roast salmon in a 450-degree oven for 16 minutes. It should be a little pink on the inside).
Move salmon to a serving plate.
Heat spinach in nonstick skillet & cook until it wilts.
Pour spinach & sauce over salmon. Enjoy!