Salmon with Pistachio Basil Butter
Heydarl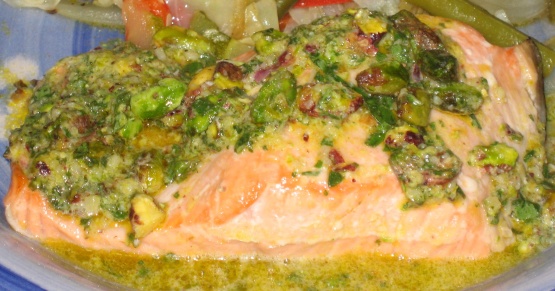 I don't remember where I got this recipe but it is totally sinful! We eat ALOT of salmon and I am always looking for new ways to prepare it. This is really different and has a very rich taste. It would be an appropriate dish for a special night or dinner party but is easy enough for a work night.

I doubled the pistachios, lime juice and garlic, used 15 basil leaves and it was great. I marinated the salmon with a little white wine, 3 cloves of garlic, garlic powder, salt and pepper to add some flavor. Used this sauce to serve over Angel Hair but I would definitely try rice instead next time.
In food processor, combine butter, pistachios, garlic, basil and lime juice.
Season with salt and pepper.
Refrigerate.
Preheat oven to 400.
Place salmon in buttered baking dish and cover with wine.
Season with salt and pepper.
Bake till opaque--about 10 minutes Place 2-3 tablespoons of butter mixture on each piece of salmon.
Continue baking until done in center-about 5 more minutes or more (depending on thickness of your salmon).
Garnish with additional basil leaves.
Serve with rice or angel hair pasta.