Salmon With Pesto & Pasta
Evie3234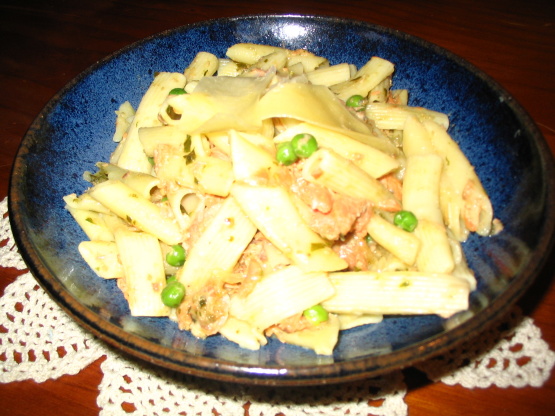 Another recipe from a cookbook by Joanna Farrow, I borrowed this book from the library and their are some great easy family meals in it, so Id like to share them with you.

Definately needs more "sauce," but otherwise a great recipe. I loved the dash of lemon juice! I used a shallot in place of the onion, added some extra minced garlic, and low carbed it with Tofu Shirataki Noodles. I also skipped the oil and tenderized the shallots in a bit of cooking spray and water.
Cook pasta until almost tender, about 10 minutes (Do not drain).
Meanwhile, heat the oil in a frying pan, add the onion and fry for about 5 minutes until softened.
Drain the salmon discarding any skin and bones, flake salmon roughly with a fork.
Add the peas to the pasta and cook for a further 3 minutes.
Drain the pasta and peas, retaining 2 tablespoonfuls of the cooking water, return pasta and retained water to the pan.
Stir in pesto, lemon juice, Parmesan, onion and flaked salmon.
Season lightly with salt and pepper and toss gently.
Serve immediately, garnished with the Parmesan shavings.