Salmon With Parmesan Crust
Ms B.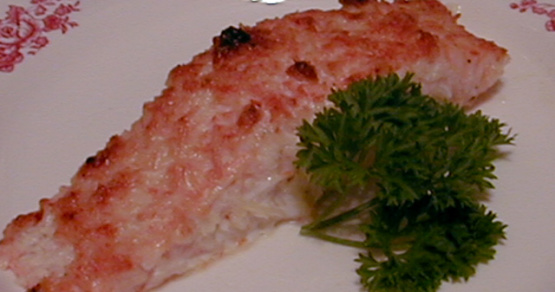 My husband and I had the most delicious parmesan crusted halibut at the Beach Cafe in Malibu, California. I decided to try to recreate the recipe using salmon instead of halibut. My husband and son claimed that it tasted quite good. So I decided to submit it here so that I wouldn't forget how to do it.

I used halibut instead of salmon, and it was delicious! I think it would be great with about any kind of fish. What great flavor. I will definetly have this again. Thanks for the great recipe!
Spray 9x13 baking pan with cooking spray, such as Pam.
Mix together garlic, onion, mayo, and lemon pepper in a food processor.
Place, milk, mayo mixture, and cheese in 3 separate bowls.
Dip each piece of salmon first in the milk, then in the mayo mix, and then the cheese.
Place skin side down in baking dish.
Sprinkle any remaining cheese over the fish.
Bake at 350 degrees for 30 minutes.