Salmon With Olive Oil & Herbs
Thorsten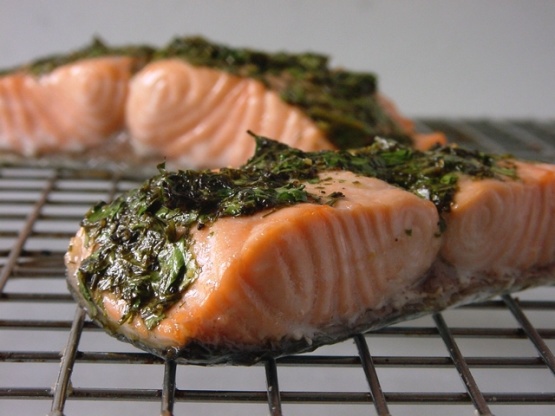 From my Favorite Supermarket...Here it is for all you Salmon lovers!

I really liked this simple recipe that allowed the goodness of the fish to shine through. I thought the herb combination was very nice (and very pretty on the fish, too), and I will definitely make this recipe again as my kids gobbled it down.
Heat and brush a grill with the 1 - 2 tablespoons oil.
Grill the fillets, skin-side up, for 4 minutes on each side.
In a small bowl, mix together the 1/2 cup oil, lemon juice, lime juice, herbs, salt, and pepper. Set aside.
Preheat oven to 350°F
Remove the grilled fillets and place in a large shallow baking pan.
Brush the fillets with the reserved sauce and bake for 3 - 4 minutes, or until the fillets flake easily with a fork.
Serve immediately.