Salmon With Mustard Sauce.
Thorsten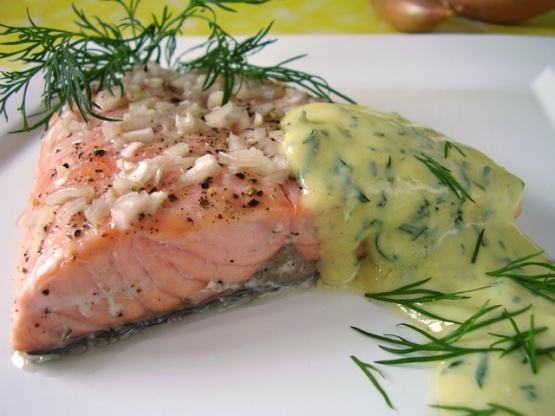 Yummy baked salmon recipe.

What Thorsten said... my experience was almost exactly the same. The fish cooked in the wine seemed too plain until it came out perfect; the dilly mustard sauce was excellent. I used dried dill; it would probably have been even better with fresh. Made for Zaar World Tour 6, the Voracious Vagabonds.
Preheat oven to 400.
Place salmon steaks in a large, deep baking pan; sprinkle w/ pepper and cover with wine. Sprinkle with minced shallots.
Bake for 12 to 15 minutes, basting often with wine.
While salmon is baking, in a small bowl mix together dill, yogurt, mustard, honey, and lemon juice until smooth.
After salmon is done, serve with creamy mustard sauce over top.