Boomette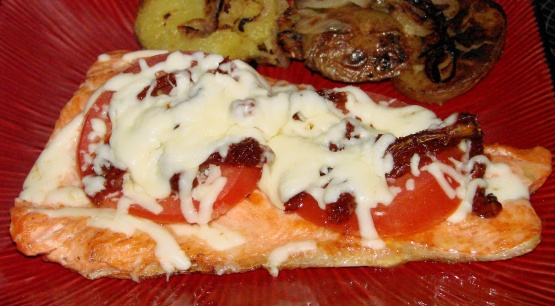 Easy and quick way to fix a lovely salmon dinner! Serve with rucola salad and potato wedges.
We found that the salmon missed something. Because a little bit of pesto brushed on the salmon would add flavors. Next time I'll diced the tomatoes and put it on top. We loved the cheese and sun-dried tomatoes. Thanks Stormylee :) Made for PAC spring 2011
Preheat oven to 225°C.
Remove skin and bones from the salmon.
Season with salt and pepper on both sides and cut into four pieces.
Thinly slice tomato and mozzarelle cheese.
Cut sun-dried tomatoes into strips.
Heat butter in a non-stick coated frying pan and cook salmon pieces, 2-3 minutes per side.
Place cooked salmon in an oven-proof dish.
Layer tomato slices, sun-dried tomato strips and finally mozzarella slices over the salmon.
Sprinkle some black pepper on top.
Bake in the preheated oven for about 5 minutes, or until mozzarella has melted.