Salmon With Mango Dressing
Peter J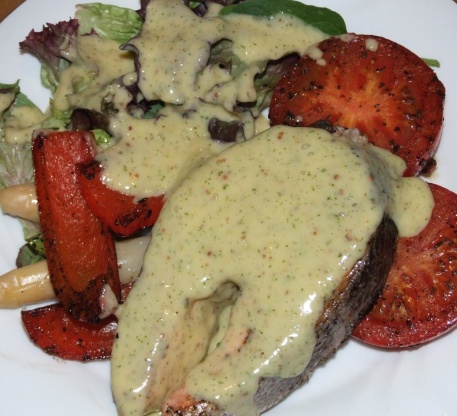 Healthy Salmon for your BBQ served with Mango Dressing

Yum Jewelies, really enjoyed this one! I couldn't get fresh mango so used a 425g tin of mango, I slowly added the juice to the food processor and tasted along the way and found about half the juice from the tin was to my liking. I really enjoyed the fresh mint taste, however some not so keen on it might like to add smaller amounts and taste along the way.
Preheat grill (broiler) or bbq grill (hotplate) to medium-high.
Drizzle lime juice over salmon and then coat with ground pepper.
Brush pan or grill with oil, grill salmon for 2-3 minutes each side or until cooked to your liking.
To make dressing, peel the mango, chop and place in food processor with all the yoghurt, mustard, lemon juice and mint and process until smooth.
Drizzle over salmon.