Salmon With Lemon Glaze and Rosemary Crumbs
Babs7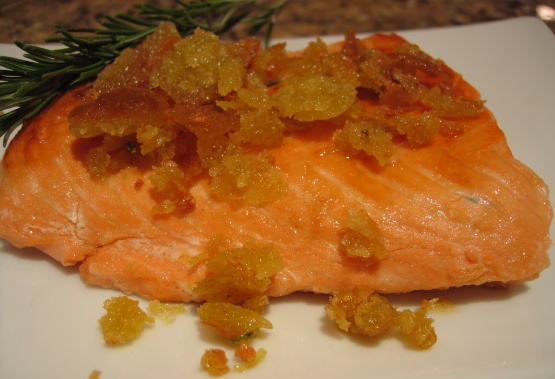 Plump salmon fillets, coated with mint and lemon infused honey, and topped with crisp rosemary scented bread crumbs! Is your mouth watering yet? From the June 2005 Food & Wine magazine, this is super dooper!

Top Review by Babs7
This is a delicious way to make salmon. I loved the flavor of the honey/lemon glaze with the rosemary. Next time I will use a little less olive oil (maybe only 1 tbsp) on the bread topping because the bread crumbs were a little too oily for my taste. I will definitely be using this recipe again for salmon!
Light the grill or preheat the broiler.In a small skillet, warm the 1/4 cup of olive oil withthe garlic and rosemary over medium heat until it is fragrant, about 1 minute. Add the bread crumbs and cook, stirring constantly, until it is golden and crisp, about 5 minutes. Remove the skillet from heat and add the lemon zest. Season with salt and pepper to taste. Remove the rosemary sprig and smashed garlic from the crumbs.
Combine the honey with the lemon juice and mint sprigs in a small saucepan. Cook over high heat, stirring frequently for 1 minute.
Brush the salmon fillets with olive oil and season well with salt and pepper. Grill over a medium high fire or broil, turning once, until lightly charred and just pink in the middle, about 10 minutes. Brush the honey and lemon glaze all over the fillets and grill until lightly lacquered, turning and brushing both sides, about 2 minutes. Move the grilled(or broiled) glazed salmon to plates. Sprinkle with the bread crumbs and serve immediately. Enjoy!