Salmon With Lemon- Butter -Caper Sauce
avanbeek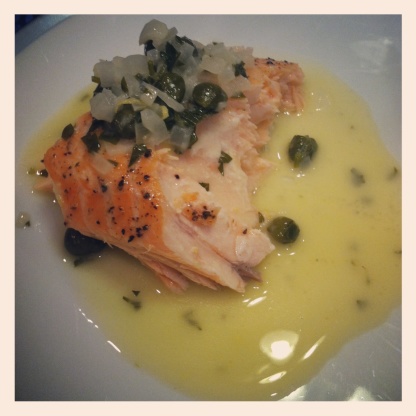 Since the sauce is made separately, you may bake, broil, pan-fry or grill the fish.

AMAZING! Best salmon recipe ever. I served it over brown rice and changed the recipe just a tad. Doubled the wine and used lemon juice in place of water. Used garlic and green onion in place of shallots. Cannot express how GOOD this dish was!!!!
Heat oven to 400 degrees.
Line a baking sheet with foil; brush with olive oil.
Season both sides of the salmon filets with salt and pepper.
Bake until salmon flakes easily, about 20 - 25 minutes.
Meanwhile in a heavy saucepan, simmer shallots, vinegar and wine until shallots are soft and very little liquid remains.
Add the butter and 2 tablespoons water, whisking constantly over high heat until the butter is melted and incorporated.
Stir in the parsley, capers and lemon zest.
Serve over the salmon.