Salmon With Horseradish "Cream"
Prep 15 mins
Cook 25 mins

The original of this recipe was in Cooking Light, and I've modified it for personal tastes. I first made this for Christmas Eve supper, and we fought over the leftovers for breakfast the next morning. Recipe can be easily multiplied as needed.
Directions
Preheat oven to 350 deg.F. Lightly oil a 9-in. pie plate or other baking dish.
Combine the yogurt, horseradish and chives in a small bowl. Season with salt and pepper. Season the salmon lightly with salt and pepper. Place salmon in pan and pour sauce over it.
Bake salmon until just cooked through, about 18 to 20 minutes. Transfer to plate. Garnish with chives.
Note1: The original calls for low-fat yogurt, but I don't like the additives, and always use whole milk natural yogurt.
Note2: The original recipe suggests 1 tbl. of the yogurt mix spread on the fish, with the remainder passed as a sauce. I really prefer cooking all of the sauce and serving the pan sauces with the fish.
Note3: A fillet works as well as a steak, just watch the thickness.
Note4: Try fresh dill instead of chives - lovely. Also, really drain the horseradish well.
Most Helpful
This is a tasty, no-fuss weeknight salmon recipe. The sauce has plenty of tang and it keeps the salmon very moist. I also loved the mild onion flavor imparted by the chives, which had recently pushed through the ground in my herb garden. My thick fillets were cooked perfectly in 18 minutes. Nice recipe!

We liked this recipe, but thought the sauce overpowered the salmon. The cook time and temp. were perfect and the salmon was cooked to perfection. Thank you!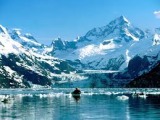 So easy and flavorful! Loved the bite of the horseradish and the crunch of the chives. My fillets were perfectly cooked in 18 minutes. Tagged for Best of 2013 on 02/01/14 due 02/15/14 ~ extension until 03/01/14.