Salmon with Honey and Mustard Glaze
Redsie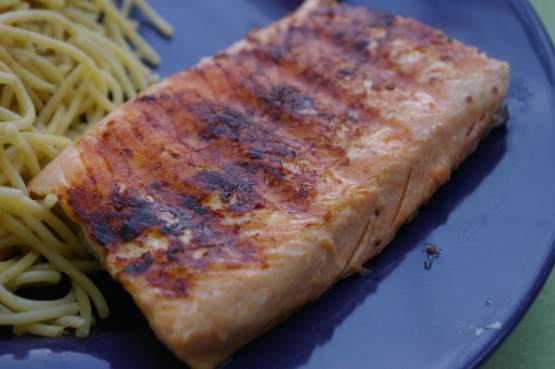 I have made this on an outdoor grill and on the George Foreman. Good both ways.
Top Review by Ilysse
I made this for shabbat with baked potatoes and roasted green beans on the side. This was a wonderful meal. I used dijon mustard and love the flavor combination. I baked it at 350 until done (about 25 minutes). I also used agave for the honey and splenda brown sugar because it is what I had. Someone said this has a teriyaki flavor but I dissagree, it didn't taste asian at all. Potatoes; white or sweet; baked, roasted, boiled, or fried are a perfect side with a simple steamed or roasted green veg. Corn would also be nice. I'd stay away from salads or heavy sauces on the side (b4 are after is ok) as they may compete for dominance with this salmon. It is so good you want it to be the star on the plate. I'll be making this again...simple enough for a weeknight but good enough for company. Thanks for posting.
In a bowl, add all the Honey Mustard Marinade ingredients; stir to combine.
Place the salmon fillet in a shallow glass dish.
Pour marinade on top of the fillet; cover and refrigerate between 15 minutes to 1 hour.
Place salmon skin side down on a well greased grill, over medium heat (Save marinade).
Cover and grill 10-15 minutes; brush salmon 2-3 times with reserved marinade; turn once during grilling.
Salmon is done when it flakes easily with a fork.