Salmon With Herb Dressing
Peter J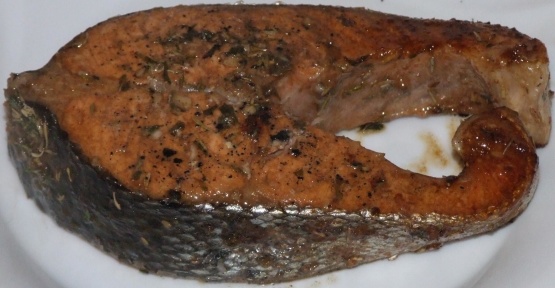 Marinate at least 1 hour in this blend and then broil or bake. Simple and good! From "A Taste of Milton" submitted by Zay Foster.

Wow this was good! I didn't have any fresh thyme and rosemary so just used dried herbs in a little less quantity. I cooked on a barbecue and the oils meant no extra was required on the BBQ plate and results were just superb! I used Tasmanian Atlantic Salmon.
In a small bowl, combine all ingredients except for the salmon, blending well.
Put the salmon in a bowl to marinate and pour the mix over the fish, making sure to cover both sides of the fish with the dressing.
Marinate at least 1 hour before cooking.
If broiling, broil 5-6 minutes on each side, turning once.
If baking, bake at 350 degrees in a preheated oven for 15-20 minutes.