Salmon With Fresh Pineapple Salsa
Derf2440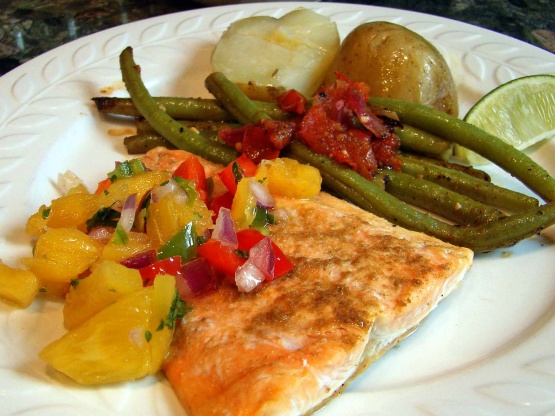 I don't remember where I learned to make this, but I'm sure I must have changed the recipe somewhat. This is my favorite way to fix salmon. The salmon can be prepared in any way. Grilling it is also wonderful! The preparation time includes the time to chill the salsa.

This is a fantastic recipe! I doubled the recipe and used 1 can of pinapple rings sliced in chunks and about 1 1/2 cups of nectarine. I also used a hot pepper from the garden. I'm bad at measuring so I just kind of threw everything in until it looked right. I didn't have lime juice so I just skipped it. I used this salsa over premade wild caught salmon burgers and served them open face with a drizzle of Tastefully Simple honey teriyaki. Fantastic! My husband said I could make this every week.
For salsa, in a medium bowl, combine pineapple, pepper, onion, 3 T lime juice, cilantro, honey, jalapenos, garlic salt, and hot sauce.
Cover and refrigerate for 2 hours.
Preheat oven to 450°.
Place salmon, skin side down, on a piece of foil, sprinkle with lime juice, garlic salt, and cumin, then put the foil on a rimmed cookie sheet.
Bake for 10 - 15 minutes, depending on the thickness of the salmon.
Remove salmon from the skin (This is easy - the skin just sticks to the foil!) and serve topped with salsa.