Salmon With Curried Vanilla Rum-Butter Sauce
HeidiSue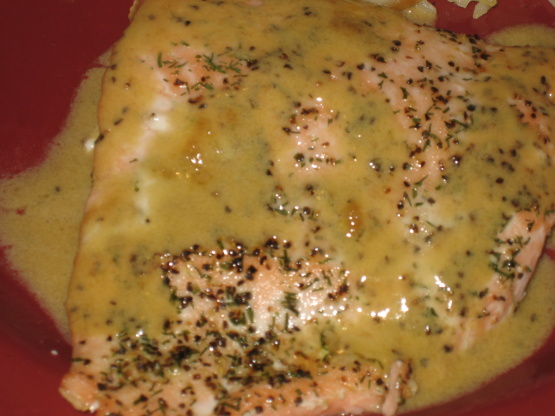 I must say that the sauce is the star here and please don't feel limited to using it only with salmon. I've used it successfully with grilled shrimp and a roast chicken too.

This is special occasion sauce at it's best! It is very easy to make, there are several steps, but they are short and worth it. The one vanilla bean I was going to purchase was $11 and I really didn't want to spend that on one little bean, so I used pure vanilla extract instead. With advice from the chef, I added 1/4 tsp of vanilla after the first reduction in step 2. There was just a hint of the vanilla, but I didn't want to add more because vanilla can be overpowering. I sprinkled my salmon with pepper, onion powder and dill and baked it in the oven then poured the sauce on top of it. This sauce is so unique all of those flavors that I never would have though to put together, green curry, vanilla, 2 entire cups of alcohol, well it all came together and tasted fabulous. The only problem was that we felt that the sauce didn't pair up well with the salmon, it is such a strong flavorable sauce that we didn't really taste the salmon at all. So, that being said we really feel that it would be to die for on a beef filet and that's what we will try with it next time. Thanks Annacia!
Prepare salmon fillets and grill, bake or poach the salmon fillets until just done while making the sauce. Keep warm until sauce is complete.
SAUCE:Heat oil in a saucepan over medium heat. Saute onion, garlic and ginger until onion is soft, about 5 minutes. Add vanilla bean, wine, rum and curry paste. Bring to a boil and reduce by half. Add cream, return to a boil, and reduce by half again.
Remove sauce from heat and whisk in butter, 1 tablespoon at a time. Pass sauce through a fine strainer. Season to taste with salt and pepper.
Puddle a small amount of sauce on each plate. Place the salmon fillets on sauce, and then pour sauce over tops of fillets. Garnish with chopped chives or parsley and lemon slices.
* Can be found in Asian specialty stores.