Salmon With Couscous Vegetable Salad
ImPat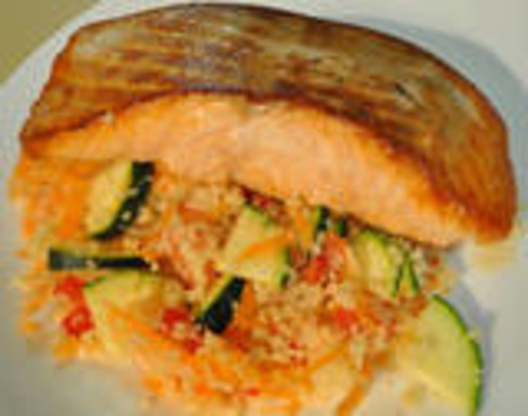 As Salmon is about the only fish that is available to me since I have moved from the coast I'm always trying it with different things. I quite like this way, it's simple and tasty.

Top Review by ImPat
Three of us realy enjoyed this for tinights dinner, a complete meal. I made for 3 but scaled the couscous size back for 2 serves which was more than enough for 3 of us though I did add some extra vegies in some red finely diced red capsicum and a finely sliced red eschallot and I cut the zucchini slices into quarters as I knew it was the only way I would get one party (the DM) to eat it (she did other than the rind [wich I left on]). For the salmon I had skinless fillets and just sauted them in a little oil in a fryin pan. Thank You Annacia, made for Went To Market.
Combine couscous and broth in a saucepan, bring to a boil.
Turn off heat and let stand for about 10 minutes, or until the water is absorbed.
Add the next 8 ingredients to the couscous, mixing thoroughly.
Heat the grill or broiler. Grill or broil the salmon for 4-5 on each side, or until fish flakes easily with a fork.
Serve salmon with couscous vegetable salad. Place lemon wedge on plates for individual use.