Salmon With Citrus-Mint Gremolata
PaulaG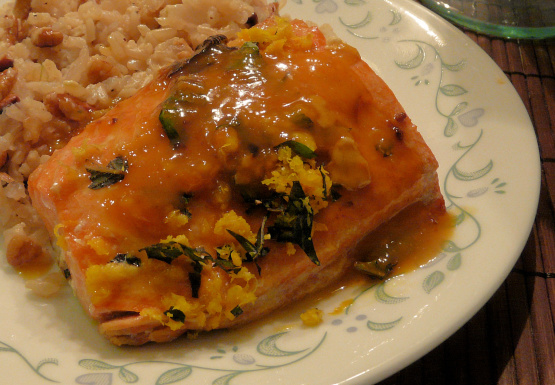 From a friend's sister. Nice combination of flavors. Serve with rice.

I was excited to make this for dinner and then came home to discover I had forgotten to purchase frozen orange juice concentrate at the market this afternoon. I actually substituted orange marmalade (same amount as the frozen oj) and left the orange peel out of the mint/lemon peel mixture. Probably not as fabulous as the original recipe (I followed the rest of the directions to a T), but it was yummy and healthy.
Mix mint, orange and lemon peel; set aside.
In a small bowl, stir together orange juice concentrate and lemon juice.
Rinse fish and pat dry.
Preheat oven broiler.
In a 12 inch nonstick fry pan with oven proof handle, melt butter over medium-high heat. When butter sizzles, add fish, skin side down. Cook until skin is browned and crisp, about 6 minutes. Gently slide spatula under skin of each fillet to release it from pan, but leave fish in pan.
Brush fish with about a quarter of the juice mixture. Leaving fish in pan, broil about 4 inches below heat until opaque but still moist-looking in thickest part, about 3-4 minutes.
Transfer fish to plates or a platter. Keep warm.
To serve, brush fish with some of the juice mixture and sprinkle with mint mixture.
Add remaining juice to pan and stir to blend pan dripping. Place under broiler until sauce bubbles, about 4 minutes. Serve over fish.