Salmon With Bok Choy, Asian Sauce and Salmon Roe
Nif_H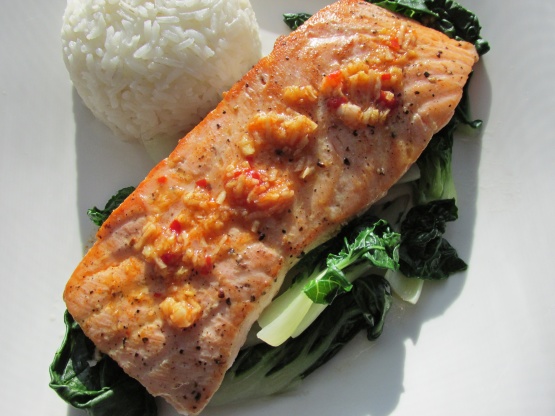 From our state newspaper and their Seven Recipes in Seven Days feature.

Wonderful meal. I did serve with rice on the side, this was spicy with wonderful flavors. So quick and easy after everything is chopped.
Place the salmon pieces on a plate and drizzle with the oil and season well.
Prepare the bok choy and steam in a bamboo steamer.
For the sauce combine the garlic, ginger, chilli, palm sugar, fish sauce and lime juice.
When ready to serve cook the salmon skin side down over a moderate heat until the skin is welll coloured and then turn it over and cook the other side for a minute, leaving it rare in the middle or cook slightly longer if you prefer.
To serve, place a bed of bok choy on each plate and top with the salmon and roe.
Drizzle over the sauce.
Steamed rice would be a great accompaniment to soak up those delicious juices.
Garnish with the coriander leaves.