Directions
Place salmon fillet, skin side down, in a microwave-safe dish.
Combine orange juice, garlic, ginger and soy sauce; pour over fish.
Microwave, covered, on high power for 7 minutes (If microwave does not rotate, turn dish after 5 minutes).
Test for doneness; cook longer if needed.
Serve on platter or plates, covered with sauce and sprinkled with green onions and sesame seeds.
Most Helpful
I've had Salmon Teriyaki before, but never in the microwave, but couldn't believe how easy this was to make!! The microwave can definitely create some delicious things! This was great and we loved it!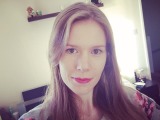 My family was not fond of this. Thanks for sharing, though!

So easy, quick and flavourful too! I had no frozen orange juice so i used a fresh orange and since I was using it, I also used the orange zest and added it. We loved the flavour and the green onion, sesame seeds were a lovely finish. Thanks for posting, I will make this one again.