Boomette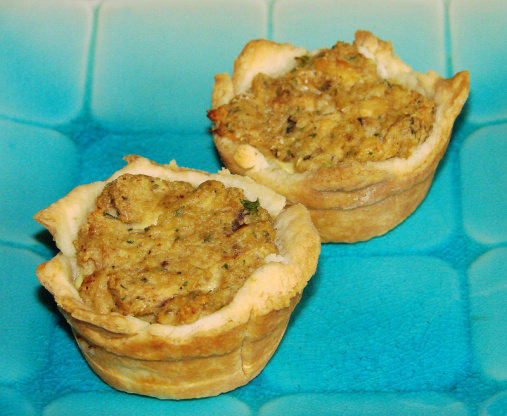 Found this recipe in a library book when I was 13 and it became my instant signature dish that haunts me to this day lol I no longer eat meat or fish,but these are still requested often by anyone who's had them. This is one of those recipes that I can count on to come out well without taste testing along the way.

I've made these several times for my son who absolutely devours them!! The dough is wonderful and browns beautifully. I did however add 2 TBSP of dill to the dough mixture which doesn't change the taste significantly, but gives it a subtle flavor. Love the fact that they are simple and I tend to keep the ingredients on hand at all times because I never know when he'll ask for them. They've been a hit at various get togethers and although I don't eat them, I'm told they're delicious.
Beat butter, cheese and flour, roll into a ball and chill 1-2 hours.
Drain/de-bone salmon. Transfer to a large bowl. Add onion, parsley, lemon, butter, salt, pepper and sage. Add eggs and milk, mix and mash together well. Stir in crumbs.
Remove the cream cheese pastry dough from the refrigerator and roll into 12 balls. Place each ball into an ungreased muffin cup (standard size) and press along bottom and up sides to form nice little shells (this takes a little patience, but the first time i did it the recipe never mentioned chilling the dough and it took FOREVER!).
Fill each tart shell with the salmon mixture all the way to the top.
Bake at 350 for 30-35 minutes.
Let cool in pans about 5 minutes before removing (go gently around edges with a butter knife and they should pop right out!).