Rita1652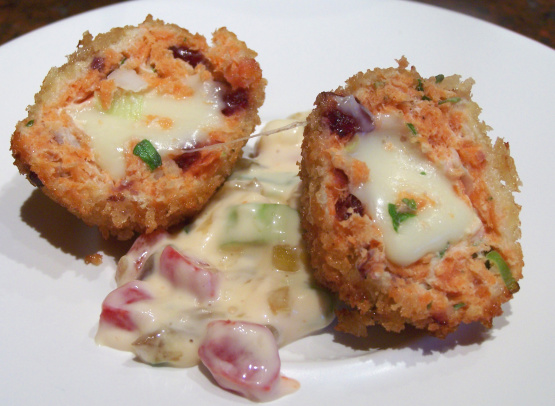 Bite into these crisp balls and enter into a gooey center. The Optional sauce is very good but you can use you favorite tarter sauce or squeeze lemon over the balls to keep it lower fat. Salmon, scallions, rosemary, pimientos, cranberries, mozzarella are the required ingredients for this RSC #14.

This recipe was made for the Hidden Gems Event following the RSC#14 contest. Not only did this recipe turn out to be 5 stars and a Gem, but another of ~Rita~s recipes was also a 5 star Gem as well. Being single I only used three-quarters of a lb of Salmon so the finished dish had 8 patties (did not make round fish balls). I also added some Sun-Dried Tomatoes as well, instead of Cranberries (and less Pimentos). I cooked the patties in a Teflon pan, so used less oil and they came out crispy (not burned, over-cooked). I did see a little of the cheese bubbling out, however, when the patties were finished and put on a plate the inside became harder (not gooey as described). Further, I also decided to make the Optional Sauce which turned out to be very good. I again added some Sun Dried-Tomatoes (less Pimentos) and Capers instead of Pickled relish. The sauce was very good! Ok, here is the bonus treat a second Gem recipe from ~Rita~(not part of the RSC Contest); Broccoli With Sun-Dried Tomatoes and Roasted Garlic Recipe #358168 To continue, on a big serving plate I put the Broccoli around the outside rim, then the patties in the center and then some Sauce on top of each. Both these recipes are 5 stars for a grand total of 10 stars. Thanks for creating and posting these recipes, they were both delicious!
Salmon Balls

1

lb salmon, cubed

1

green onion, sliced
1⁄4 teaspoon fresh rosemary, minced

3

fresh basil leaves, chopped
1⁄4 cup minced pimiento
1⁄4 cup dried cranberries (optional)

1

pinch chili pepper flakes
1⁄4 teaspoon garlic powder
salt and pepper

1

egg, whisked lightly

3

ounces mozzarella cheese, cut into 12 cubes
3⁄4-1 cup panko breadcrumbs, flakes

Optional sauce

1⁄2 cup mayonnaise

1

green onion, sliced

1

tablespoon lemon juice
1⁄4 cup diced pimento pepper

2

basil leaves, minced

1

garlic, minced

1

tablespoon pickle relish

2

green olives, minced

For Deep Frying

peanut oil, safflower oil, sunflower oil, and canola oil
Make Optional Sauce by mixing all ingredients for sauce together, chill till ready to serve. You can use your favorite dipping sauces.
In a food processor place all salmon ball ingredients except, cheese and panko crumbs. Pulse 3-4 times till chunky smooth.
Divide the salmon mixture into 12. Place each 1 section of the mixture in hand and put cube of cheese on the salmon encasing the cheese with the mixture to form a ball. Repeat with all 12. Roll in panko crumbs.
Heat 2-3 inches of oil in a deep heavy pot to 350-375 degrees.
Place 6 rolls in and cook for 3 minutes. remove to paper towel to drain. Regulating the heat if necessary to keep that oil temperature between 350 and 375 degrees F.
Fry the remaining 6 and drain on paper towel.
Serve with dipping sauce and enjoy the gooey center.
Don`t overcook!