Peter J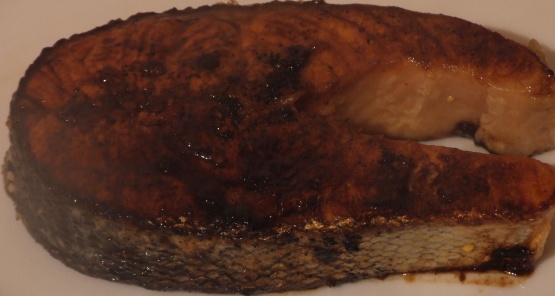 Although I haven't tried this recipe yet, it sounds pretty scrumptuous. My mom got this one out of a grilling cookbook that came with her Weber grill. She made it a few nights ago and has just raved about it since. She did have one suggestion (maybe 1/4 cup instead)...cut down on the soy sauce a bit. I guess its a little on the salty side.

Absolutely wonderful! My son and I cooked this up for my husband and served with steamed rice, and a nice miso soup! Yummy! Also is very good with wasabi on the side!
Combine all marinade ingredients.
Marinate salmon steaks in refridgerator 30-60 minutes.
Remove salmon from marinade (reserve liquid for basting).
Grill over medium heat for 10-20 minutes (flip the salmon steaks once halfway through and baste with remaining marinade).
Serve immediately.