Boomette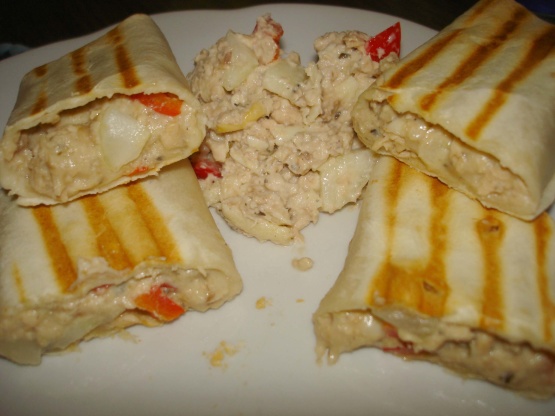 A quick and easy salad wrap that can go to work with you. I pack up the filling, lettuce, and tortilla separately, then assemble at work. Just store it in the refrigerator until lunch time. I warm the tortilla a few seconds in the microwave.
I didn't put all of the ingredients. I didn't mesure. I put red salmon, diced cucumbers, red bell pepper diced, ranch salad dressing, and shredded cheddar cheese. I mix it all together. I put it in flour tortilla and in a panini grill. It was so good. Even my boyfriend and my baby of 13 months old liked it. I will do this again but next time I'll try with sweet corn, green onions and lettuce. Thank you :)
In a mixing bowl, add the first 7 ingredients; stir to mix.
Season to taste with salt and pepper.
Put a lettuce leaf on each tortilla.
Spoon approximately 1 cup of salmon mixture over lettuce.
Roll up tortilla, burrito-style; cut in half and serve immediately.