Salmon Salad With Bright Spring Vegetables
Cook4_6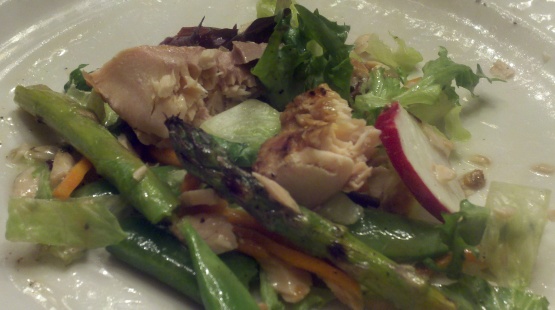 Modified from Southern Living, March 2013. Serve with Creamy Herb Dressing, or your favorite dressing. Easily make this an Asian salad, by serving with a sesame ginger-type dressing!
Preheat oven to 425°F.
Snap off tough ends of asparagus. Cut asparagus into 1-inch-long pieces, and cook with sugar snap peas in boiling salted water ~ use 1/4 teaspoon salt in the water. Cook for 2 to 3 minutes or until crisp-tender; drain. Plunge into ice water; drain.
Sprinkle salmon with remaining 1/4 teaspoon salt and pepper; and bake in a Pyrex dish sprayed with cooking spray, for about eight minutes. Cool salmon for 5-8 minutes before adding to salad!
Arrange lettuce, uncooked edamame, radishes, asparagus, sugar snap peas, and salmon on a serving plate.
Drizzle with Recipe #499119 or your favorite dressing. Make this Asian by adding a sesame ginger-type dressing!