Parsley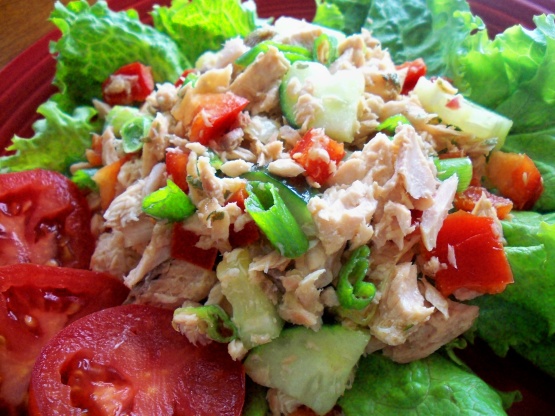 This is a perfect, light and summery salad! It has really bright flavors, and is a new favorite at our house!

A very light & fresh-tasting salad. (Hurray for no canned salmon or mayo!) I made this as written and served over lettuce. I did season my salmon with salt, pepper, tarragon and lemon juice before baking. I'm glad that I did because it needed some herbs and spices. I even could have used a little more... maybe garlic, dill and/or Old Bay? It's a lovely base recipe to season to taste. Thanx for sharing it!
Preheat oven to 350. Place the salmon in a medium baking dish and bake, covered, until cooked through, about 15 minutes. Let stand until cooled.
In a medium bowl, mix the cucumber, bell pepper, scallions, lemon juice, and olive oil together. Add the baked salmon, flaking the meat with a fork, and mix until well combined.
Season with salt and pepper.