Parsley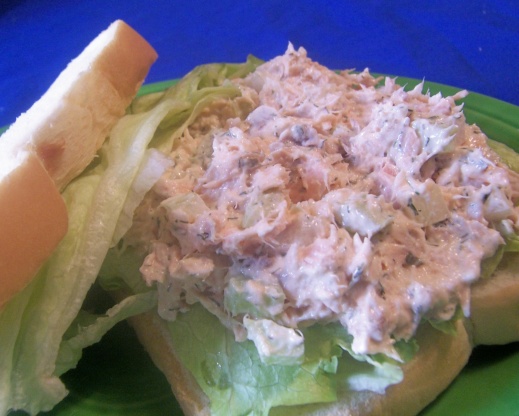 Quick lunch that uses up the leftovers from last night's salmon...or you can used canned salmon instead. Dill, Dijon mustard, and celery take the "boring" out of salmon (or tuna) salad! This is good in a wrap with some tomato, cheese, and red-leaf lettuce.

This was an awesome, refreshing change! I had left-over salmon & I mashed it up fine, but if I don't have that next time I want it, I will use a can of salmon. I am allergic to onions, garlic & most seasonings, so this was great! I just left out the dill! I did add extra celery, cuccumbers, romaine hearts cut up & black olives & it was great. I had it on some french bread & that was a full meal! Thanks so much, now I don't have to eat just tuna or chicken salad & I LOVE salmon, but hadn't thought of this. Live & learn!
Combine all ingredients and chill before serving.