Rita1652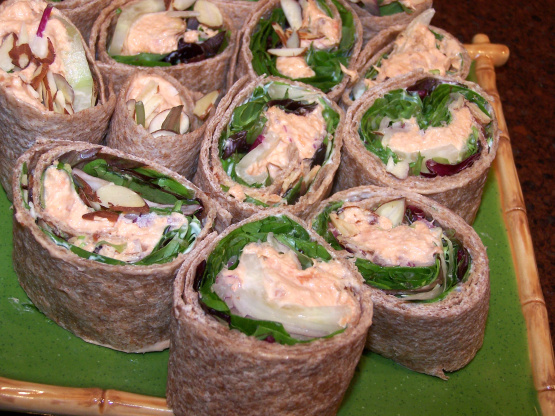 A take on sushi rolls. Tortilla's for the nori sheets and a spicy mix using wasabi and ginger in the dressing. Crunchy almonds, cucumbers, and red onions. Cilantro and bean sprouts would be nice options in these roll-ups.
Mix dressing ingredients together.
Lay out the 2 wraps and spread 1 tablespoon of the dressing on over one side of each wrap.
Place the baby greens on the spread dressing. Top with red onions, line the cucumbers across the wrap. Mix the dressing into the salmon. Spread the salmon along side the cucumbers. Place the avocado slices along the salmon if using. Sprinkle the almonds over the salmon. Roll up tightly the tortillas be sure to roll so the cucumbers are all though the rolls. Slice each wrap into 8 slices and place cut side up.