WiGal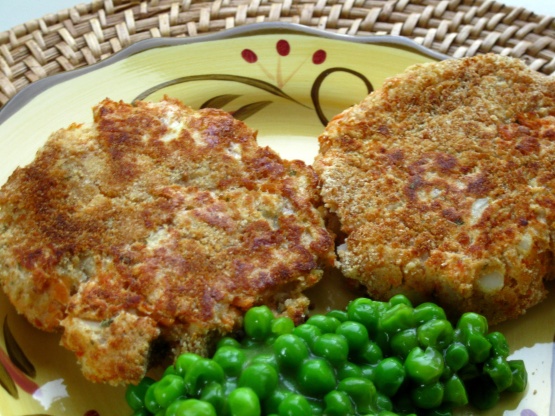 This is the exact recipe that my great gran used to make for the family meals together. Found this in mum's cook book and thought I'd share it with all. Mum's made this recipe a few dozen times and it is fantastic.

Top Review by WiGal
Very tasty! I used 1/4 teaspoon garlic salt and 1/8 teaspoon pepper. Earlier I microwaved potatoes with the onion so I omitted the butter. (I nuked them in the reynolds microwave bag product-saved me some dishwashing.) I dislike frying so oven baked these at 425 degrees F for 20 minutes and turned them halfway through. Think the size of the patty is more important-I made 6-they were pretty big-probably too big. Also put them on lowest rack setting not too sure if that is important. Thanks Polly_Waffle_Kid for sharing.
Boil the potatoes in your usually way until tender and then drain. Mash well; do not use any butter or milk.
Drain salmon well, combine in bowl with the mashed potato, parsley and lemon rind.
Melt butter in a pan, add finely chopped onion, cook until transparent. Add onion, salt and pepper to salmon mixture, mix well. Shape into 8 rissoles (or more depending on size of rissoles).
Combine beaten egg and milk and dip rissoles in this mixture, then into the dried breadcrumbs. Fry in deep, hot oil for a few minutes until golden brown; drain on absorbent paper.
PLEASE NOTE: Rissoles can be baked on an oiled tray in a moderate oven for 20 minutes or until golden brown, turn rissoles after 10 minutes of cooking time.