Ninna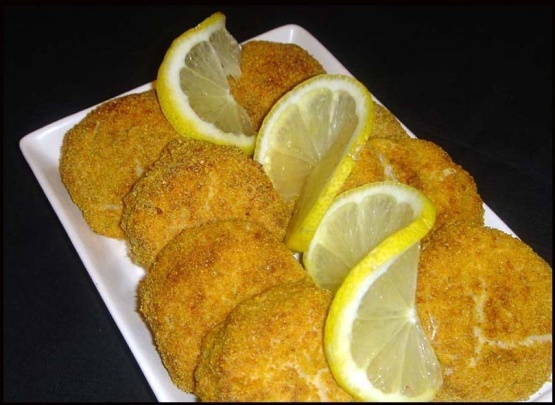 These Salmon Rissoles are a good standby when unexpected visitors drop by around about dinner time as most of us have a can of slamon in our pantries.

My husband suggested I make something different this Friday, so followed the recipe as written. The texture was lovely, crisy outside and tender inside, but I thought the flavor was a little bland. I will make it again, but I think I'll add a little dijon mustard to the mix for a little zip. It was a nice balance with the roasted garlic mashed potatoes and salad
1

(16 ounce) can salmon

1

small onion, finely grated (use juice and pulp)

1

stalk finely chopped celery (optional)

3

tablespoons minced fresh parsley
salt and pepper

2

large eggs, well beaten
1 -1 1⁄2 cup fine dry breadcrumb (or dry mashed potato mix)

2

teaspoons lemon juice

3

tablespoons butter (you may need a tad more butter for frying)
Turn salmon and liquid into a medium mixing bowl.
Flake with a fork, removing OR mashing any bones (they are edible).
Mix in grated onion, parsley, lemon juice, salt and pepper.
Mix beaten eggs into salmon mixture.
Add enough bread crumbs, about 1/2 to 3/4 cup, to make the salmon mixture thick enough to shape into 12 small patties.
Roll patties in 1/2 cup bread crumbs.
In a large heavy skillet over low heat, melt 2 tablespoons of butter; add patties.
Fry patties slowly on one side; add remaining butter, turn patties and fry until brown on the other side.
Serve with either a salad or steam vegetales.