Salmon, Potato and Caper Pizzas
JustJanS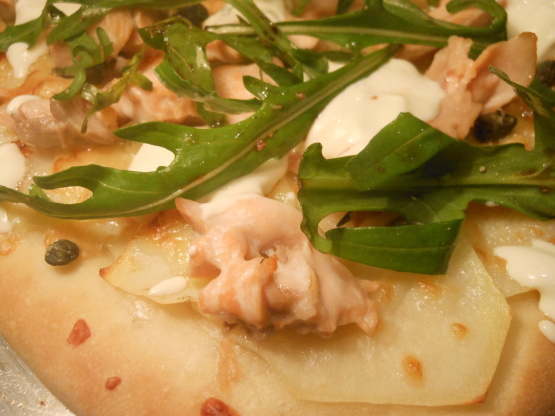 From our local/state Sunday newspaper. It got a good review on the nutrition stakes and rated well being packed in omega-3, flavanoid compounds, quencetin. vitamin A and K. Times are estimated.

I made this tonight for a pizza night with firends. We all enjoyed the flavours in it, but my very thinly (mandolin) sliced potatoes weren't cooked in the time given. Husband Russ didn't feel the potato slices actually added anything to the pizza and suggested just making it without them. I made my own bases
Preheat oven to 220C and place Lebanese bread on 2 large baking trays.
Arrange potato, overlapping slightly over bread and spray with oil and then top with thyme, garlic, capers and mozzarella.
Bake, swapping trays halfway through cooking for 10 to 15 minutes or until potato is tender and bases are crisp.
Meanwhile, heat a non-stick frying pan over medium heat and spray with oil and cook salmon for 2 to 3 minutes each side or until fish flakes easily when tested with a fork in the thicken part and then flake into large pieces.
Combines sour cream, lemon juice and horseradish cream in a bowl.
Divide salmon between pizzas and top with salad leaves and drizzle with horseradish mixture.