Salmon Pie With Egg Sauce
Chouny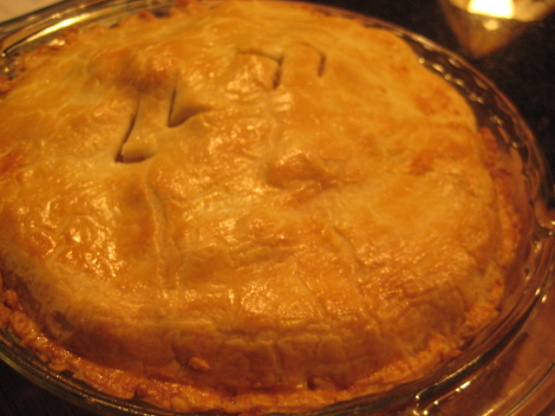 My mom who just passed away recently, used to make this delicious salmon pie when we were young and had completely forgotten about it until just recently. Thanks to my sister Lucie who's been making it on a regular basis and who reminded me about it ! Hope you enjoy this very comforting salmon pie.

As a family we like the adventure to try something new, sometimes we like it and sometimes we do not. We all loved the egg sauce very similar to what I put over cauliflower without the eggs. The Pie well we all thought it was missing something… my husband said he didn't care for it at all, yet my son said he liked it but thought it needed peas. We probably wouldn't make this again, just personal taste.
FOR PIE:.
Melt olive oil, saute the onions until tender.
Peel potatoes and cook in salted water until tender, mash them up.
Flake salmon with liquids, incorporate with the mashed potatoes and cooked onions.
Add salt and pepper to taste.
Place first pie shell in bottom of pie plate.
Put potatoe salmon mixture.
Place second pie shell on top, make incisions on top for steam.
Beat egg, brush egg mixture all over pie. This will create a nice golden crust.
Cook at 400o for 30 minutes.
SAUCE:.
Boil eggs in water for approximately 10 minutes. Remove shells, cut eggs in thin slices, put aside.
Heat 2 cups of milk, reserve.
In a heavy based saucepan, melt butter, whisk in flour and cook, stirring until the flour is foaming but not browned, about 1 minute.
Off heat, add warm milk, whisk well, then bring to a boil, whisking constantly until the sauce thickens.
Season with salt and pepper and nutmeg.
Gentlly add sliced eggs, simmer slowly for 1-2 minutes.
Slice salmon pie and serve with a generous amount of egg sauce on top.