Cook4_6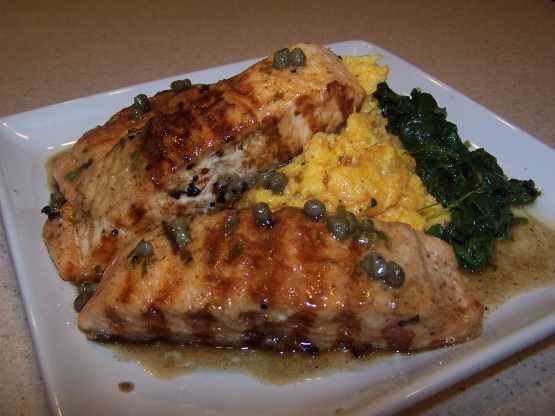 I love Salmon, and I love Chicken Picatta, so this recipe is a marriage made in heaven! (See "Parmesan Mashed Butternut Squash" for the Butternut Squash referenced in the list of ingredients) To answer the reviewer: The method written in the recipe recommends leaving them in the pan. You could also cook them through after flipping, remove them then make the sauce. They will turn out crispier (more pan fried) that way. The original recipe will result in more of a poached-like Salmon. (When I make it I remove it and transfer it to the oven to finish baking; and double the sauce. I use thicker steak-like pieces of salmon instead of medallions.)

Turned out pretty good. But I don't understand, am I to remove the salmon from the pan after step 4, or leave it in while I make the sauce?
In a 10 inch non-stick skillet, place 2 tbls of extra virgin olive oil and 1 crushed garlic clove.
Season salmon medallions with salt and pepper on both sides, scatter a small handful of flour over a plate then dunk salmon into flour on both sides until evenly coated.
Shake off excess flour, place into the pan with the oil and garlic, turn on medium-high heat. Do not move salmon around until you see the edges of the salmon turn from opaque to whitish-pink.
Carefully flip over the salmon and let cook for 15 seconds.
Add the pinot grigio, chicken or fish stock and the capers.
Continue reducing the sauce until you have about 2 tbls left in the pan. Remove from the heat and swirl in the butter and parsley, until the butter is fully incorporated into the sauce.
In another 10 inch skillet, heat the remaining 1 tbls of extra virgin olive oil and the second crushed garlic clove until you see some bubbles coming off the garlic clove.
Add the spinach, season with salt and pepper and carefully twirl the spinach with the oil using tongs until the spinach wilts. (About 1 minute over high heat.).
Mound the parmesan squash in the back-center of the plate with the wilted spinach behind it. Neatly arrange the salmon medallions and caramelized lemon slices in front of the squash and pour the sauce over the top.