Salmon- Pesto Focaccia Sandwiches
Ms B.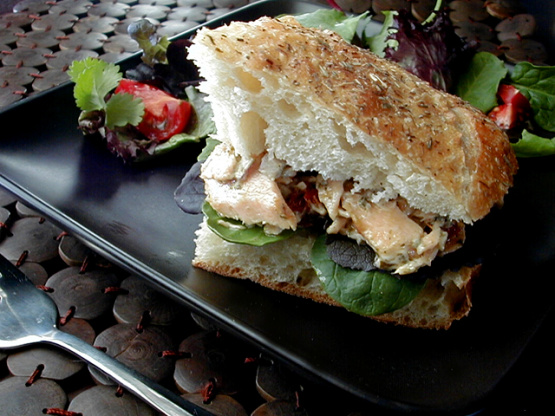 This recipe was one of 6 winners of the "LUV SAMN SO MUCH" recipe contest.

I should be honest - I didn't actually eat this as I'm not a seafood fan! But I made this as part of an afternoon tea catering for 20 and it was a huge hit! I used sun-dried tomato pesto and red onions. Very easy to make and looked great - thanks for posting!
Place salmon in a medium bowl.
Add pesto, onion, tomatoes, mayonnaise, lemon zest and salt, mix well.
Split bread in half, layer lettuce leaves on bottom half of bread, top with salmon mixture and top of the bread.
Cut into 4 and serve immediatly or wrap in plastic wrap and refrigerate up to 6 hours before serving.